I am sure you have heard about Origami Owl or at least seen someone wearing an Origami Owl piece.  In a way, charm bracelets & lockets are passé thanks to Origami Owl's Living Lockets. They are the new way to share your life story!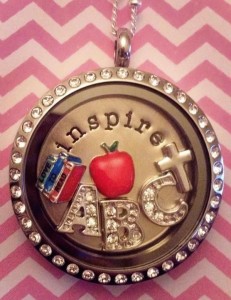 An Amazing Story
I want to start with the story behind the company before I share my honest review of the products & the consultant I would like to introduce you all too.  At the time Origami Owl creator Bella was just 14 years old.  When she asked her parents for a car when she turned 16, they told that she would have to work for it.   Bella created Origami Owl…
Her amazing story is presented well in a company video I recommend you watch.  I must warn you; however, that it certainly caused me to get a little emotional.  Not only is Bella remarkable, but I also applaud her parents for providing her the opportunity to start her own business and be successful.  If you have ever read Rich Dad Poor Dad, you know exactly the lesson her parents taught her.
My Origami Owl Review
What I love is that your Living Locket can change with your life events, outfit for that day, or the season.  They are versatile.  I can guarantee that when you first get invited to a Jewelry Bar or even an online show you will get carried away.
Origami Owl currently offers the following:
Living Lockets
Charms
Chains
Plates
Dangles
Tagged
Earrings
Each of those collections then provides you choices that cover everything from hobbies, Motherhood, to summer road trips.  The diverse selection truly makes it possible for people seeking a Living Locket to have it be "theirs."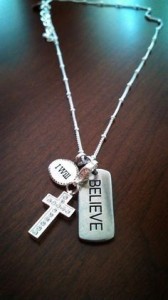 I purchased the largest sized living locket in Gold.  (I currently have a thing for gold tones).  Inside my locket, I mixed rose gold & silver.  I recently read a fashion article stating that mixing metals with jewelry is on trend and we no longer need to worry ourselves of having everything be silver or gold.  With Origami Owl, this makes things even more fun!
My most recent plates & charms I purchased were themed for my engagement.  I found a picture on Pinterest that inspired my look.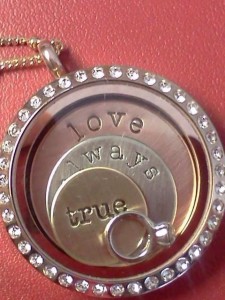 When I wear my Origami Owl necklace, I do get a lot of compliments and people who are curious about it.  It is a great statement and with all the options, you can truly make what you want.
Negative Thoughts: I think the initial investment is expensive.  Once you get your Living Locket & chain, you can accessorize pretty inexpensively.  (If you would like, hosting a show either online or as a Jewelry Bar can help you get jewelry discounted or free.)  I think my first Origami Owl necklace I put together (the WHOLE WORKS) was over $100.
The Living Lockets are delicate and I would caution everyone to treat them carefully.
Jennie, An Amazing Origami Owl Designer
I would like to introduce you all to Jennie, my favorite Origami Owl Designer.  No matter where you live in the United States, Jennie can be your Designer thanks to her website, Social Media skills, and incredible customers service.  If you follow Jennie on facebook, you can be the first to know about new products being launched to the Origami Owl collection!
Jennie's Webiste: here
Jennie on Facebook: here
Dreaming up a design is not easy for me – I need to see examples or manipulate the charms myself.  I told Jennie I was having a hard time visualizing my necklace & she put combinations together for me, snapped a picture & sent it to me via Facebook.  Talk about personalized service & for someone I have never personally met!
Jennie is dedicated & easy to work with!    If you would like more information about Origami Owl or are interested in hosting your own Jewelry Bar – contact Jennie: owljennie@jlparties.com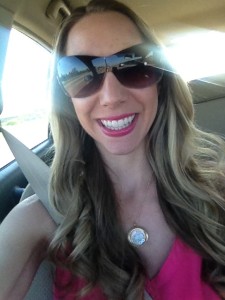 Here I am wearing my Living Locket from Origami Owl, but created by me (and Jennie)!