Day by Day Beauty is pleased to provide customers with a second skin care option.  Next week, the company will be launching Hyaluronic Acid Serum!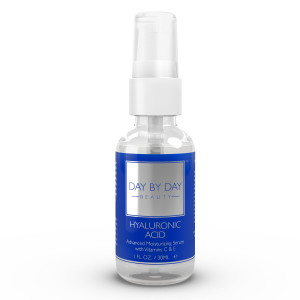 (Please note:  Exclusive VIP Club Members will be notified the second Hyaluronic Acid Serum is available & with an outstanding deep discount.  You can sign up to by an Exclusive VIP Club Member here.)
What is Hyaluronic Acid?
Hyaluronic Acid has become a key ingredient in many moisturizers and serums lately due to its ability to retain moisture. It is present in the human body helping lubricate joints and is even found in the fluid of eyeballs to assist in maintaining their shape. However, like many substances in our bodies, it naturally depletes as we age—which is why beauty product manufacturers have begun adding it to products.
Hyaluronic acid is a humectant: it draws water in to the outer layers from deep within the skin. In fact, it is said to hold up to 1,000 times its weight in water. As a result, it makes skin appear plumper and feel softer and smoother. It is even often used as lip filler in plastic surgery!
What Will Hyaluronic Acid Serum Do For Me?
Day by Day Beauty's ultra-light gel formula goes on easily and absorbs quickly.  Hyaluronic Acid Serum provides facial skin with deep hydration without that greasy feeling that some cream moisturizers leave behind.  Hyaluronic Acid Serum is safe for all skin types and complexions – including delicate & oily skin.
One source shared that: Not only does it hold moisture, it adjusts its absorption rate to reflect its environment. This means that depending on the climate and humidity levels outside, hyaluronic acid will adjust its absorption rate to deliver just enough moisture from the outside air to your skin.
In addition to providing the skin with moisture, Hyaluronic Acid Serum has been shown to reduce the appearances of fine lines & wrinkles.  This benefit happens with time & is accelerated when used with other anti-aging skin care products.
Day by Day Beauty has infused their Hyaluronic Acid Serum with Vitamin C, giving users a daily dose of antioxidants.  When applied in the morning, Day by Day Beauty's Hyaluronic Acid Serum will help protect the skin from environmental aggressors & free radicals.
When using Hyaluronic Acid Serum, it is optional whether or not to follow with daily moisturizers.
Day by Day Beauty is so excited & look forward to seeing how customers react to their new serum!