Halloween is one of the most exciting and fun holidays of the year and having a standout costume is one thing that almost everyone wants to achieve. Halloween costumes are not just for kids and teenagers but for grownups too! Costumes wouldn't be complete without makeups and accessories so check out these amazing Halloween costume and makeup ideas that you can try on and would make you remarkably stunning on Halloween!
Fairy Costume and Makeup Ideas
Fairies are one of the most enchanting characters that you can play during Halloween. However, before you become one you need to know the basics on how to dress up and look like a fairy. You need to learn about the various eye makeup and costume ideas that you can choose from.
Eye Makeup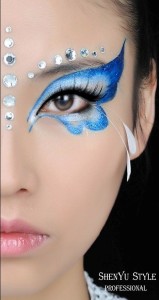 Having captivating eyes is one thing that you should focus on if you want to beacome a beautiful fairy for Halloween.  These are just some of the ideas I found on Pinterest that you can "play" with!
Of course, you need to start with a good base such as a tinted moisturizer and foundation. Apply the base color and then a liquid eye liner to define your eyes. You can use some cosmetic glitters and beads too if you want to look more enchanting!
Costume and Accessories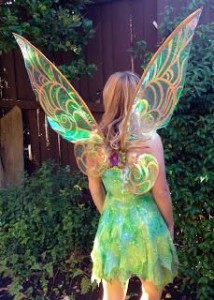 For your costume, you can actually purchase a fairy dress, your wings and sandals as they are usually available at stores. However, you can also improvise and make your own costumes yourself. You can make wings out of using coat hangers, stockings, crystal beads and glitters.
Wicked Witch Makeup and Costumes

This is a classic choice for a Halloween costume, you can also stand out by customizing your attire instead of buying one at the store. Give your witch costume a touch of your own character and make it blend well with your taste. Be beautiful, sexy but classy, and an envy on the Halloween party!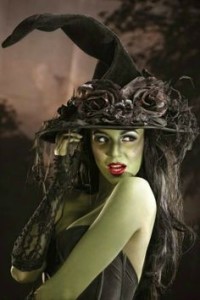 Witch Eye Makeup
You can try an unforgettably wicked eye makeup on Halloween such as these.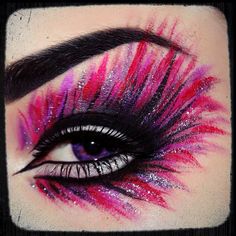 Fierce, enchanting and very sexy eye makeups are essential for a witch costume. You can try on these eye makeup ideas and experiment to make these designs look more impressively beautiful on you.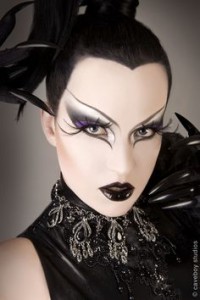 Witch Hats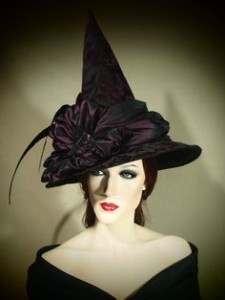 A fantastic witch costume would never be complete without a wicked hat. You can make a simple witch hat very fashionable and embellish it with black velvet fabric, lace ribbons, feathers, Tulle netting and glitters.
Fun Mermaid Makeup and Costume Ideas
Eye Makeup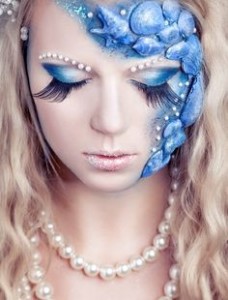 There are actually many mermaid makeup ideas available. You can even customize the color of your eye makeup according to the type of mermaid that you want to become.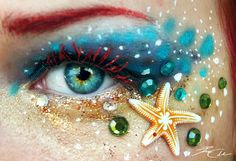 Just look for the right makeup materials such as water-based face paint, colorful eye shadows, cosmetic glitters and beads. You can also use nets before applying your eye shadows to make your skin look scaly.
Mermaid Costume and Accessories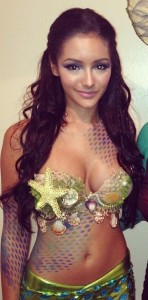 T
This is one cute mermaid costume! Simple and creative mermaid costumes like this one can make you look really stunning.
There are costumes available for rentals or customize the materials you already have. You can use nude tank-top body shaper, assorted shells, plastic seaweeds, and gold paint.
Of course, your costume wouldn't be complete without the fun hair accessories for mermaids.
Mermaid Hair Accessories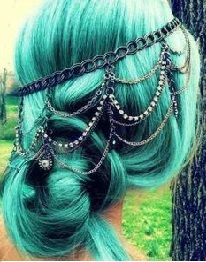 You can also try having this cute mermaid hair. Embellish your hair with this beautiful tiara too! You can make this tiara by using a plastic tiara, seashells, starfish, silver sparkle stems, and paints.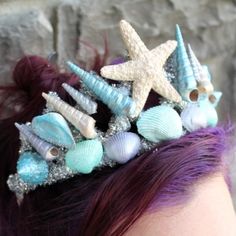 The costume and makeup options that you can try on are endless. The most important thing is that you are comfortable with what you are wearing and you get to enjoy the entire Halloween party celebration. Explore many other Halloween costume and makeup ideas and be the best of what you want to be during the party.