Let's face it, we all have the desire to get rid of unwanted body hair.  How many minutes even hours have been spent in front of our magnifying mirror plucking or time spent in the shower shaving?  I would be afraid to count.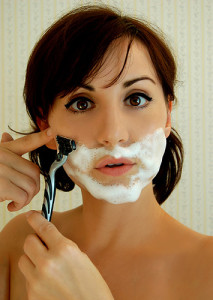 I am not part werewolf or anything!  From everyhing I had heard, read, or seen – I am completely normal.  (Well, in this situation!)  A few years ago, I paid for professional laser hair removal at a dermatologist facility.  Similar to a Groupon, the dermatologist office was having a BOGO.  I paid for one treatment area and received an additional treatment area for free.  I was thrilled!  If I can remember correctly, I paid less that $500 for my 1 treatment package & an after care kit I purchased.  Prices vary by what region you wish to have treated.
I am very happy with my professional laser hair removal experience, minus the fact that "maintenance" may be required each year after the initial treatment package.  I have noticed this most in my underarm area.  The laser "got rid" of my underarm hair for about a year.  After that point I noticed some hair growth (although less) emerging.  With laser hair removal, they do coach you that just because you do a treatment package, it doesn't guarantee that your unwanted hair will stay at bay forever.  That is why they heavily encourage a maintenance appointment each year to keep the nude appearance.
A good friend of mine shared with me her recent purchase of Tria Laser 4X, an FDA approved at home laser treatment to permanently remove unwanted hair.  Perhaps you have seen the commercials for this product?  At any rate, I was instantly interested…
Why: 
Device investment $449 – $475 (same as cost to treat underarms at the professional facility I went to)
If maintenance is needed, it does not require another paid visit(s)
Privacy of treating unwanted hair from home
FDA Cleared & Certified Laser
Guarantee on the Tria Laser 4X – results or your money back (you know how I feel about guarantees)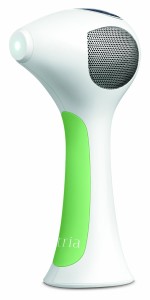 My friend who owns the Tria Laser 4X says it WORKS and she would make the investment of the device again in a heartbeat.  Her only negative feedback was that it takes a lot of time.  This is because of how the Tria Laser 4X is designed.  The surface area it covers is less than a professional facility (because their lasers are huge).  In addition to having a small surface area, the prescribed method requires you to overlap focal points so that all areas are hit with the laser.
Tria's website shares it is as easy as 1, 2, 3 with these steps:
Step 1: Prep Your Skin

Cleanse, shave and towel-dry for
the most effective treatment.
Step 2: Select a treatment level

Customize your comfort from 5 energy levels. Start on low, and work your way up to a higher setting.

Step 3: Choose an area and begin

You're one pulse away from smooth skin. After each pulse, lift and place the tip in a new treatment area. For best results, treat every two weeks for up to three months.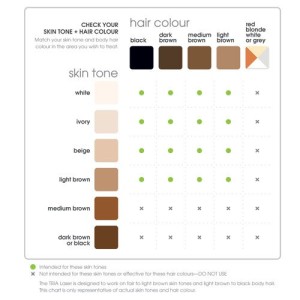 Since the release of the Tria Laser 4X, Tria has come out with:
Hair Removal Laser Precision
Acne Clearing Blue Light
Age-Defying Laser
Unbelievable!  The beauty industry truly has it all, and continues to have innovative ideas that make putting our best face forward that much easier.
I have included some great Tria Laser 4X testimonials I found from real people on YouTube & celebrities.  My dear friend has asked to remain anonymous.  My desire is to eventually make this investment myself and be able to share a review video with you all.
Enjoy and tell me what you think!